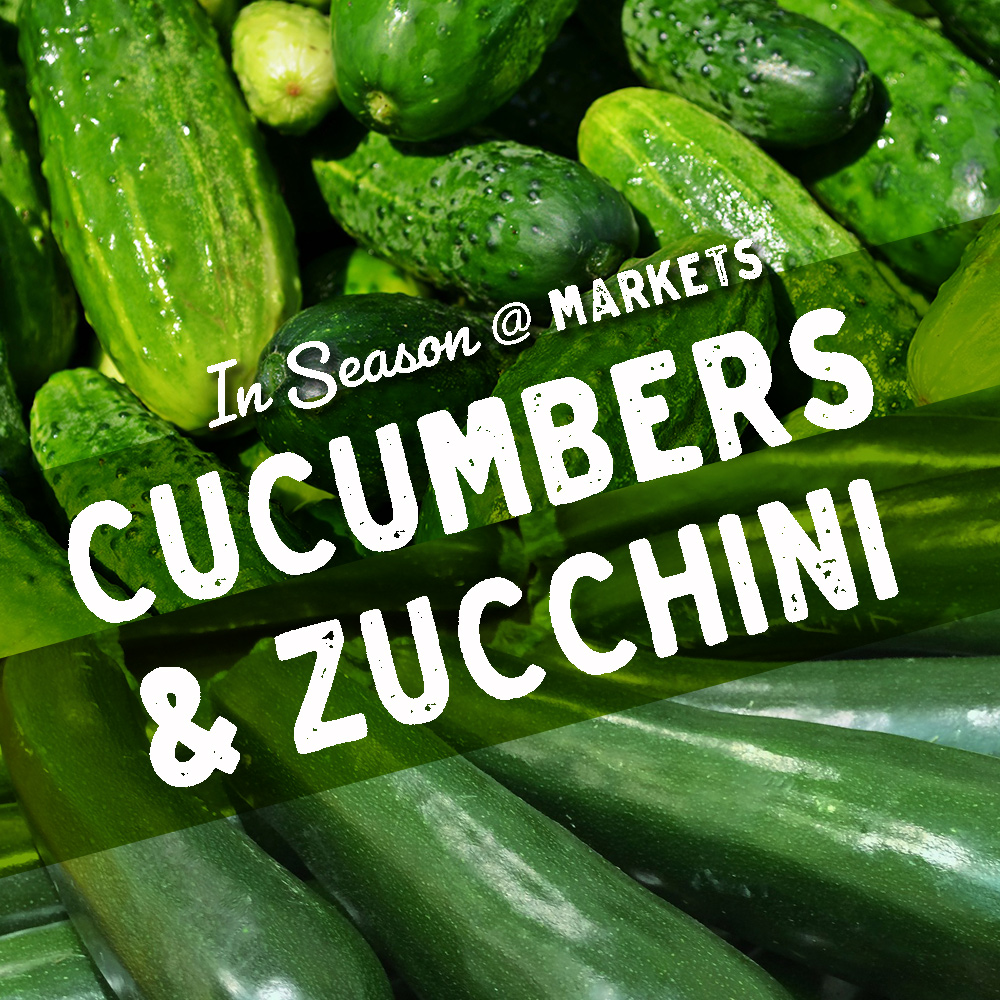 Recipe With Heart
Catskills Cukes and Zukes Overflowing on Market Tables
We can't take credit for the term "cukes and zukes" — we overheard Farmer Matt of Burns Farm tell customers at the Monticello Farmers Market that his fields were full of cukes and zukes. We love the way it sounds…cukes and zukes!
Catskills Seasonality
June – December
Fresh Facts
Kirby, Gherkin, Garden, Persian: there are many different varieties of cucumber available at the farmers market!
Zucchini can be up to 95% water, cucumbers are 96% water – making both veggies low calorie but satisfying snacks
Zucchini is also called a "summer squash" (as opposed to winter squash like the spaghetti squash or butternut squash)
Storage Tips
Both cukes and zukes can be stored in the fridge for about a week – place veggies in a loosely tied or perforated bag as you don't want moisture to build up in the bag, and soften the veggies.
Prep & Usage
Zucchini is so versatile! It can be baked, steamed, stir-fried, grilled, or sautéed
Yes, you can eat zucchini raw! Cut into wide strips and use in a lasagna in place of noodles for a lower calorie dish
For older and tougher zucchini, it is recommended to peel and remove its seeds – the flesh is still great for cooking (although not as flavorful for raw snacking)
Diced cucumbers are great additions to salsa, adding a fresh summery flavor!
Of course you can pickle cucumbers…see below for a simple pickling recipe that can be used for almost ANY veggie!
If you use cucumber in a sauce (like Greek tzatziki), first slice the cucumber, sprinkle a teaspoon of salt over the slices, place in a bowl, let it sit an hour, then put in a strainer to remove excess moisture – you'll enjoy a crunchier, more flavorful bite
Featured Recipe
Super Simple Zucchini Bake
INGREDIENTS (♥ = Fresh from the Catskills!)
3 cups zucchini, sliced ♥
2 cups tomatoes, cut in chunks ♥
1 cup onions, sliced ♥
1 teaspoon salt
1 1/2 teaspoon Italian seasoning
dash cayenne pepper
DIRECTIONS
Arrange the zucchini, tomatoes, and onions into a lightly oiled casserole dish. Sprinkle the seasoning over the mixture. Bake at 350 degrees Fahrenheit for 30-45 minutes.
---
Bonus Recipe:
Perfect Dill Pickles
6-8 small cucumbers, sliced into spears or chips — you decide! ♥
1 cup vinegar (any type: white, apple cider, but not balsamic)
1 cup water ♥
1 small bunch of fresh dill ♥
1 clove of garlic, minced ♥
1 1/4 Tbsp. kosher salt or sea salt (or 1 Tbsp. table salt) 1 lime, juiced Salt and pepper, to taste
DIRECTIONS
Divide up the cucumbers, garlic, and dill evenly between 2 clean pint-size glass jars (mason jar size).
In a separate container, mix vinegar, water, and salt.
Pour the liquid mix over the vegetables. Place lids on jars, set in the fridge. It's ok if liquid doesn't fully cover veggies, the cucumbers release their own water in salted liquid.
Check the pickles in a day, you may need to add a bit of water to cover the vegetables. Pickles reach maximum crunch in 3-4 days but you can sneak a bite before then…
Keep refrigerated and use within 3 weeks.